30 Reasons to PARTY in June
|
This post almost doesn't even need an intro; for obvious reasons like SUNSHINE and SUMMER, celebrating in June is a no-brainer! However, there are actually a lot of specifically special days in June, some of which you might never have heard of until we did the honors of compiling them all together for you! Wondering how to justify your inevitable revelry this month? Read on!
June 1st: This is the month for celebrating Gay Pride as well as being Rose Month. Depending where you are, evidence of one or both of these is likely to be all around you in colorful display!
June 2nd: On this day in 1977, the state of New Jersey began allowing for casino gambling in Atlantic City! Ever thrown a casino party? They're fun and a great way to incorporate charity into an event–have your friends play for charity, and donate proceeds to a cause you care about! An unforgettable casino night could include formal attire (or mock formal attire) for guests and dealers dressed like dealers, score cards to track games and keep people circulating, servers with champagne and h'ors d'oeuvres trays, and plenty of cool props and prizes! Check out this Pinterest board for more ideas.
June 3rd: Have you been eating your veggies? This is a fantastic month to get back on the health wagon, because it's National Fresh Fruit and Vegetables Month.
June 4th: As if we needed a day to remind us to eat cheese! Today is National Cheese Day, providing extra encouragement to integrate one of the over 900 types of cheese into your life. For the classy cheese-lovers out there, consider hosting a cheese-tasting party, or perhaps a wine and cheese party: offer guests pairings of interesting cheeses and complementary wines, perhaps inspired by geography (for example, French cheeses and wines). Another idea: Pair cheese and beer, another great combination, offering samples of craft beers from local breweries. The biggest benefit of a cheese party? Very little cooking prep involved!
June 5th: It's World Environment Day! The focus of WED is to bring the global community together around the issues of waste and consumption; this year's theme is "7 billion dreams," based on the idea that "Dreaming is the first step toward actualizing a future we want," and supporters of this year's campaign include Leonardo diCaprio and Jack Johnson. Want to get involved by organizing an event? You can register as an official WED 2015 event on the UN website, here.
June 6th: The Belmont Stakes takes place today. This is the third race in the Triple Crown, and the horse American Pharaoh may clinch it! If you're in the NYC area and want to attend, here's your opportunity!
June 7th: It's Broadway's biggest night: the 2015 Tony Awards! This makes for one of the best viewing party occasions, and you can make a real night of it with flourishes like using a projector and theater-style seating to get the right atmosphere, serving  theater-themed cocktails and desserts, and inviting guests to dress up in costumes inspired by their favorite productions. Or, have a potluck-style shindig, and have guests bring a dish inspired by the list of nominees. Legally Blond(ies), anyone?
June 8th: Awww, it's Best Friends Day. You know your best friend(s) better than we ever could, so invite them to their favorite restaurant for lunch, invite them out for a drink, get together and watch your favorite movie, or if you're long-distance, have a Skype call!
June 9th: If your birthday is this month, that makes you a Gemini (May 21st-June 21st) or a Cancer (22nd-July 22nd). Geminis in particular are known to be enthusiastic and full of life–all the more reason to party with one! This month, throw a birthday party for the special Cancers and Geminis in your life.
June 10th: Iced Tea Day. Some of our team is from the South, so we love our sweet iced tea–and so will you when you incorporate it into your summer events. If you're not sure how, check out these spiked iced tea recipes and twists on regular ol' iced tea. For casual events, you can serve iced tea in mason jars; or for fancy events, highball glasses or cocktail glasses with festive straws and umbrellas! Tea is also a good one for adding fresh herbs and fresh cut fruit, making it the quintessential summer beverage (besides, of course, beer).
June 11th: Bonnaroo 2015 starts today! Can't make it this year? That's cool. Create a playlist with this year's line-up and gather a few friends for a mellow evening.
June 12th: Did you know June 6th-13th of this year is National Fishing & Boating Week? Now you do and just in time! Hit the jetties in a speedboat, mosey out to the middle of the lake for an afternoon of fishin', or rent a sexy yacht for the night. Here are some more ideas for the boating-friendly event planner.
June 13th: If you can make it, today is the Jazz Age Lawn Party (13th & 14th) on Governor's Island, celebrating its 10th anniversary. If you're thinking of going, or maybe thinking of hosting a jazz age party of your own, know that this party is all about capturing the magic of a bygone era, where you'll be surrounded by the music, drinks, and costumes of the Golden Age of Jazz–sure to be an amazing party.
June 14th: Bourbon Day! For those who love this Southern breed of whiskey–and yes, we noticed this month has quite a few Southern influences–it's your day to indulge responsibly, preferably while talking in a romantic Southern drawl.
June 15th: Today is North West's Birthday and it's International Lobster Day. Coincidence? We think not. #fancybaby 
June 16th: A conundrum: Today is National Fudge Day and it's also Fresh Veggies Day. We can't advise on this one … Go with your gut on which you'll celebrate.
June 17th: Game, set, match. It's tennis goddess Venus Williams's birthday!
June 18th: For International Picnic Day, pack up a delicious spread for you and some friends, and head out into the glorious June sunshine. Don't forget the plastic cups!
June 19th: The day for pretending to be James Bond, it's National Martini Day. This is also the perfect excuse to get a group together for a midday martini on your lunch break. Just one question: onion or olive?
June 20th: Today marks the Coney Island Mermaid Parade, the celebration that kicks off the summer season in Coney Island! Here you'll find sea creatures of every shape and size, and probably some partial nudity–families be warned.
June 21st: It's Father's Day, possibly one of the most important holidays to celebrate all year! Show your dad you care with another tie, or maybe organize a Father's Day Brunch, tickets to see his favorite team, or a Father's Day Barbecue for the whole extended family!
June 22nd: The gods of weird holidays have made today National Chocolate Eclair Day, and we have no complaints.
June 23rd: Today is International Public Service Day, giving you a chance to "Ask not what your country can do for you, but what you can do for your country." Public service comes in many forms, and can be a career choice or just an afternoon spent doing something good for the community. No act of service is too small, so get out and do something selfless
June 24th: Billed as the world's biggest music festival, Summerfest 2015 (24th-July 5th) begins today. Basically, everyone will be there. If you won't, though, there's always Hulu which will debut every Seinfeld episode (all 180 episodes) starting today.
June 25th: Chances are, you have a wedding to go to this weekend as more people get married in June than any other month. Need some wedding toast inspiration? Check this out!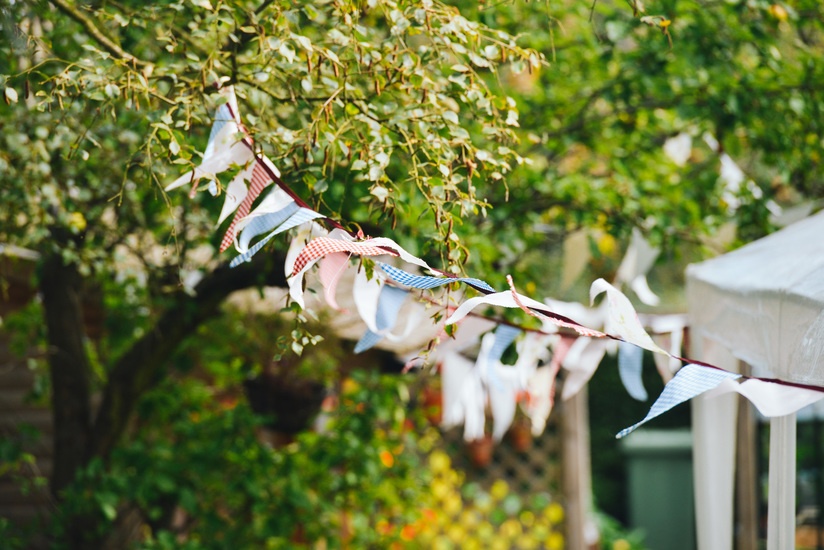 June 26th: City meets country this weekend as Farmborough Country Music Festival kicks off on Randall's Island. Want to throw a Southern-themed party of your own? Check out this gallery for a roses-and-lemonade Savannah-inspired Southern event. Or, get a mix of classy-chic and rough-around-the-edges party ideas (like the "beer barrow")  over here.
June 27th: Pitch a tent! The Great American Campout is tonight, and unlike most parties, your guests are expected to stay all night! (Don't worry, though – They'll be outside.) This year, top National Wildlife Federation supporters have agreed to donate $1 for every person who participates in the Great American Campout, which will go toward the NWF's efforts to preserve and protect our great outdoors. This is a fantastic event for all ages–get the details here.
June 28th: June is also National Pet Adoption Month. Are you thinking of adopting a pet, or perhaps you'd like to volunteer your time for an animal shelter? It's a good time to start. Here's a list of events and fundraisers in NYC organized by the Mayor's Alliance for NYC's Animals.
June 29th: It's National Candy Month! While for some this is a welcome excuse to stuff your face with leftover candy corn (ahem, me), others might go more highbrow by trying out a new candy recipe … May we suggest the Brownie Candy Parfait, with a side of pseudo-exotic candy sushi.
June 30th: It's a day near and dear to my heart, set aside to appreciate all the social media professionals, tweeters and bloggers out there, and well as the wonder that is social media itself– it's Social Media Day! I can think of no better way to celebrate June 30th than by writing next month's post about reasons to celebrate in July–and that's exactly what I'll be doing
In honor of this special day, share a tweet, post a Facebook message, or learn about all the ways you can use the SquadUP Social Gallery to promote your event (even after the fact!) using – you guessed it – social media!
Do you have a June event that you think should get a mention on our list? We're all ears! Put it in comments below or tweet to us and we'll see what we can do.
And for all your event planning needs, download our free app!