Magnises and Rick Ross, Helping You End Your Summer Like A Boss
|
Magnises is committed to helping New Yorkers experience their city like a boss and Rick Ross has embodied "like a boss" for quite some time now so the collaboration is surprisingly unsurprising. In case you haven't heard already, they're co-hosting a unique concert/party hybrid. Mark September 5th on your calendars because they'll be taking over and decking out the Williamsburg Savings Bank. We told you this event was unique…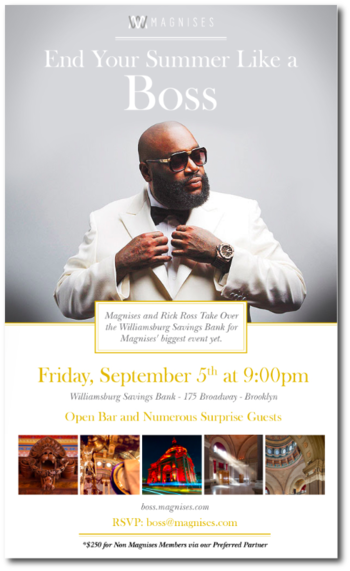 This is a one-time show and the kind of that top-shelf, no boundaries lifestyle that Magnises card holders have come to expect. The best-selling, world-class superstar jumped on the opportunity to transform one of the most iconic banks in New York, Magnises style. The event will also feature a full open bar and we're told there will be plenty of surprises. If you're not already a member, you can start by applying here.
For those "super-bosses" out there that want to kick it up a notch, there are VIP tables available for parties of 6+ starting at $3000. Your table will include a table (duh), a personal waitress, special drinks, food, a VIP seating area, and a meet and greet with special guests. Six tickets are included with your table and if you have a larger party, send table requests to boss@magnises.com. Starting to follow the boss messaging that Magnises has worked hard to live up to? Good.
If you're in NYC and not already a member, we strongly recommend checking out Magnises. Rarely to people describe having a black card as "affordable" but for the value, that's exactly what it is.