End Of Summer Sunset Cocktail Cruise
|

The End of Summer Sunset Cocktail Cruise, or the SquadUP Booze Cruise as many of you know it, is coming up fast. And as much as nobody wants summer to end, it's easier to stomach knowing we get one last unforgettable night. Unless you've been to the Frying Pan, you're probably not too familiar with taking a boat to nowhere. But, like life, it's not all about the destination. It's important to enjoy the journey. Too cheesy? Well, we'll cut straight to the meat and potatoes then.
We've teamed up with Sumeria to bring together 300 New York City young professionals for a night of what we've been calling "social networking. There will be drinking, dancing, laughing, light apps and general partying, all with an amazing view of the city. Have you ever been on the Hudson River at night looking back at the lit up skyline?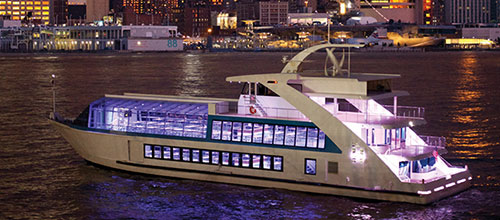 Come thirsty because we've stocked a full 3-hour open bar with more than enough bar tenders to keep the drinks coming. The boat has two indoor floors featuring bars and a dance floor and a giant rooftop deck. We're intentionally underselling this event so that you have plenty of space on board. This means that there is enough room to go through with this event, rain or shine.
We wouldn't be able to pull off a night like this without our awesome sponsors. A big thanks to Magnises, Next Step Realty, BoobyPack, Shindig, and FratMusic. FratMusic is curating a playlist to keep the party bumping. So if you'd like to suggest a song, artist, or genre you'd like to hear, simply leave a comment or tweet @squadup and we'll make it happen. And please share all this greatness with your friends and on social media using #SquadUPSummer.
Make sure to download the SquadUP app to participate in the live event chat. In addition to the brand giveaways for people using the app, there will be in-app networking. As the night rolls on and guests take advantage of the open bar, there will inevitably be some hilarious pictures and comments posted. It's a great way to share with other guests without giving out personal contact information.
Ok, so here's the recap:
Buy Tickets: cruise.squadup.com
Download the app: squadup.com/ios
Show up at Hornblower Landing (Hudson River Park Pier 40, 353 West Street, New York, NY 10014) at 8pm ready to party!