The Epic Cocktail Hour ft. Deuxième and Greg Oliveras
|
If you haven't been to Rockwood Music Hall in NYC then you're in for a real treat. They're hosting a special music and cocktails event on Friday, January 23rd from 6:30 to 8:30 powered by SquadUP. What better way to start the weekend than with amazing music and cocktails at this beautiful NYC venue. Rockwood is like your college-town coffee house graduated and got a fancy job in Manhattan. And a big part of that upgrade means an impressive wine selection.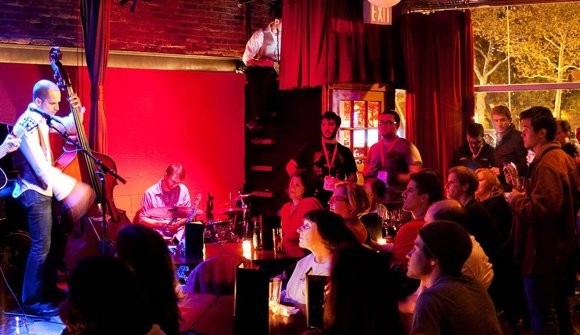 What is Deuxième (pron. "deu-zee-em"), other than the word for "second" in French? Deuxième is a story of convergence: hip hop, jazz, indie, groove, technology, and tradition. With Rick Mitarotonda on guitar and Doug Bogan on keyboards/production, the duo is seeking to redefine what it means to be a musician these days by straddling both the electronic and acoustic worlds. If you can appreciate both the production skills of a talented DJ and great live music, then this event is for you.

The roots of this duo run deep: Rick and Doug grew up together in the leafy suburbs of Connecticut, playing in a soul/groove group for seven years before heading to their respective colleges. With Rick and Doug coming together musically for the second time (get it?!), Deuxième draws on its members' extensive formal training as jazz/classical musicians to create a unique hybrid of genres. The result is an entirely new electro-acoustic groove, bringing acoustic instrumentation to the electronic arena.
Listen to Deuxième on Soundcloud.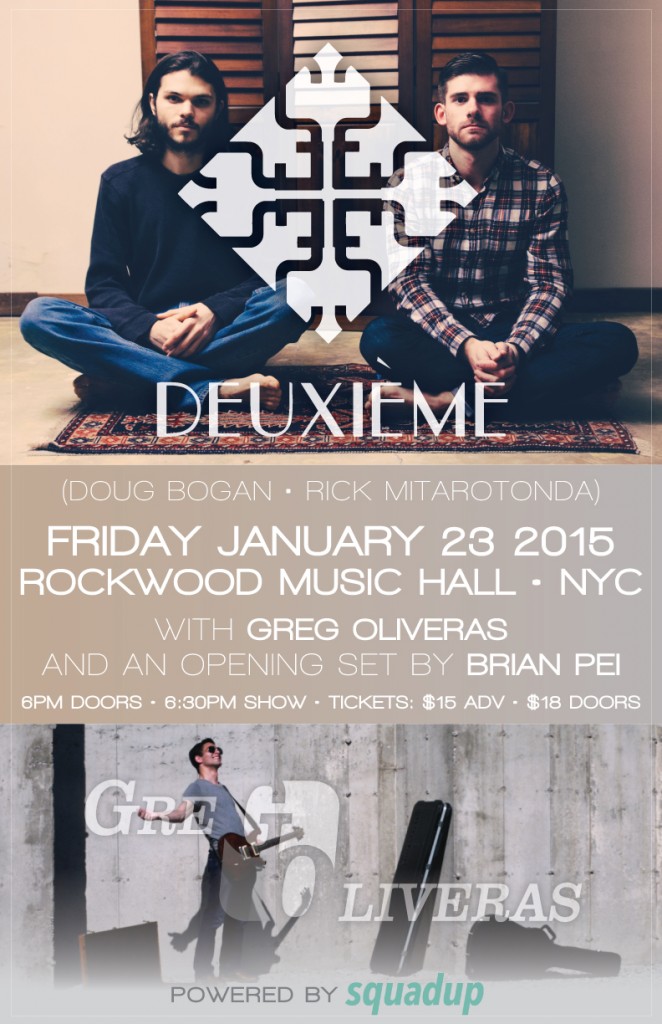 Greg Oliveras' sound has yet to be heard elsewhere.  With a sophisticated blend of powerful guitars, honest lyrics, and monster vocals, his music tells stories to which everyone can relate.  He took on countless musical opportunities throughout his upbringing in southwestern Connecticut, ranging from singing in elementary school plays to playing guitar in national jazz competitions.  His recent compositions, combined with his years of performance experience dating back to age four, give Greg an edge on stage and an unquenchable desire to entertain.  He recorded all instruments on his August 2014 debut release, "Envision A World EP".  Listen to Greg on Soundcloud.