How #EventProfs Know If They Need a Custom Mobile App For Their Event
|
Whether it's for a conference, trade show, or music festival, we've all been asked to download mobile apps for one specific event. Being able to exclusively deliver content that's specific to your event and fully control the user's experience presents plenty of benefits for both the organizers and the guests. But who decides if those benefits are worth the time and money necessary to build an event-specific mobile app?
Before you look into the price of developing your mobile app, don't forget that we're in the midst of an #EventTech boom. Many event planning and registration platforms now offer mobile apps to complement their services. If all you need is check-in and registration then you certainly don't need a custom mobile app for your event. On the other hand, if you're looking for an app that let's you create the event right from your phone, there's currently only one app that does that. And before we get into what features true #EventProfs make sure to include in their custom app, here are some worthwhile features you can take advantage of for free.
The SquadUP mobile app is free to download and it's even free to create your event. In addition to the "event planning table stakes" we already discussed, like mobile check-in and registration, there are slew of additional features. Often at a conference, you'll want a tool to encourage networking and guest engagement. A live event chat does just that, allowing guests to message and share pictures without revealing personal contact info. It's also a great way for the organizer to efficiently reach all guests at once where they're already spending their time– on their phones. This presents an opportunity for sponsors to reach attendees using a uniquely native medium. What better way to follow a celebratory picture of a group of guests cheers-ing than with the message "everybody meet at the bar for [INSERT LIQUOR BRAND NAME HERE] shots."
Another concern is giving guests reasons to champion your event on social media and making sure there's as little friction as possible for them to do so. You know what makes guests post to social media? Seeing what others are posting on social media! That's why having a live twitter feed on the big screen at your event can be so effective. But if your venue is big not everybody will be watching the same screen, especially if their eyes are glued to their phones. The SquadUP mobile app allows you to retain their social media attention by curating all social media content related to that specific event in a Social Gallery within the app.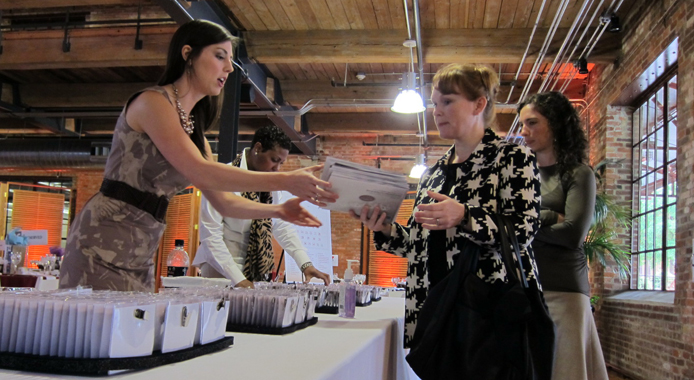 There's no harm in exploring the free event app world before taking on the project of developing a custom one. If your event is big enough to require a new, event-specific build, then you should consider what past event organizers in your position have said about the process, including being able to ask the right questions. Thankfully, BizBash's Mitra Sorrells recognized the need to conduct and compile this research.
"To me the R.O.I. is in how many attendees used the app to help with their show experience, whether finding an exhibitor or booth on the show floor to finding the right room and time for a session they wish to attend. The more attendees that use the app, the better. Saving attendees' time, increasing convenience, reducing quantities of printed materials, and aiding exhibitors in connecting with attendees are all valuable benefits of deploying a mobile app. An investment well worth it, in my opinion."
—Jason McGraw, senior vice president of expositions, InfoComm International
"Make sure the app provider can provide analytics that can be attached to your goals. For example, if one of your event app goals is to increase networking and interaction between attendees, you should have access to metrics that can demonstrate 'networking success.' While quantitative feedback with analytics is very helpful, you can get great insights by asking your attendees for some qualitative feedback about their experience with your event app."
—Alon Alroy, co-founder, Bizzabo

Find more #EventProf input here and continue the conversation by commenting or tweeting @squadup.