Engaging Audiences with Crowd Mics
|
Everybody wants to engage their guests at an event and there's no one right way to get them excited, talking, and participating. A strategic event planner will have a multi-pronged approach that suits the specific type of event and type of engagement they want to catalyze. Julius Solaris wrote a great piece on 10 events that engage guests in creative ways back in September that is worth checking out for inspiration. Of course, social media strategy will almost always play a leading role. But we like to find other unique pieces of tech to help put take your event to the next level.
Today we'd like to introduce Crowd Mics. But in order to give you a proper and comprehensive overview of why this app could be a game changer, we're bringing in guest blogger and Crowd Mics co-founder Tim Holladay. He actually founded the company with his younger brother Sean and both of his parents are entrepreneurs so it's safe to say he has startups in his blood.
Take it away, Tim:
We're excited about our new product and the chance to feature it on the SqaudUP blog! Crowd Mics is an app that turns the audience's iOS and Android devices into wireless microphones for any live event. Gathering audience questions and feedback at a meeting or event is usually done by positioning microphones on stands or by passing around a wireless mic around the room. Crowd Mics provides a new option: it connects audience members' mobile devices to the room's sound system, so every person has his or her own microphone.
The concept of Crowd Mics came while Sean and I were in a meeting together. The interactive presenter asked for a lot of questions and comments from the audience but Sean and I couldn't hear the responses. Sean was distracted and was holding his iPhone when it hit him, "I can FaceTime someone across the world and see and hear them fine, but I can't hear that person in the room with me. Why can't I use my phone as a wireless microphone?". I have worked in live events for years and thought of a way it could be done. We researched for months thinking it must exist, and it didn't. So we decided to be the ones to bring this "mic for the crowd" to live events.
So how does it work? Everyone downloads the free Crowd Mics app and connects to the same wireless router, which can be via a venue's Wi-Fi or a stand-alone wireless router device. Crowd Mics doesn't require an Internet connection because it only uses the router to push data back and forth. The presenter on stage plugs an iOS or Android device into the room's sound system and creates a name and access code for the event in the Crowd Mics app. Audience members download the app and enter the code to join the event. When they want to ask a question or make a comment, they tap a "Request to Talk" button on their devices, and the presenter will see a list of people who want to talk in the order they requested. The presenter can enable an individual microphone, mute a microphone, or put the system in "open mic" mode so anyone can comment. Audience members can also submit text comments to the presenter through the Crowd Mics app. The presenter can also use the basic polling functions.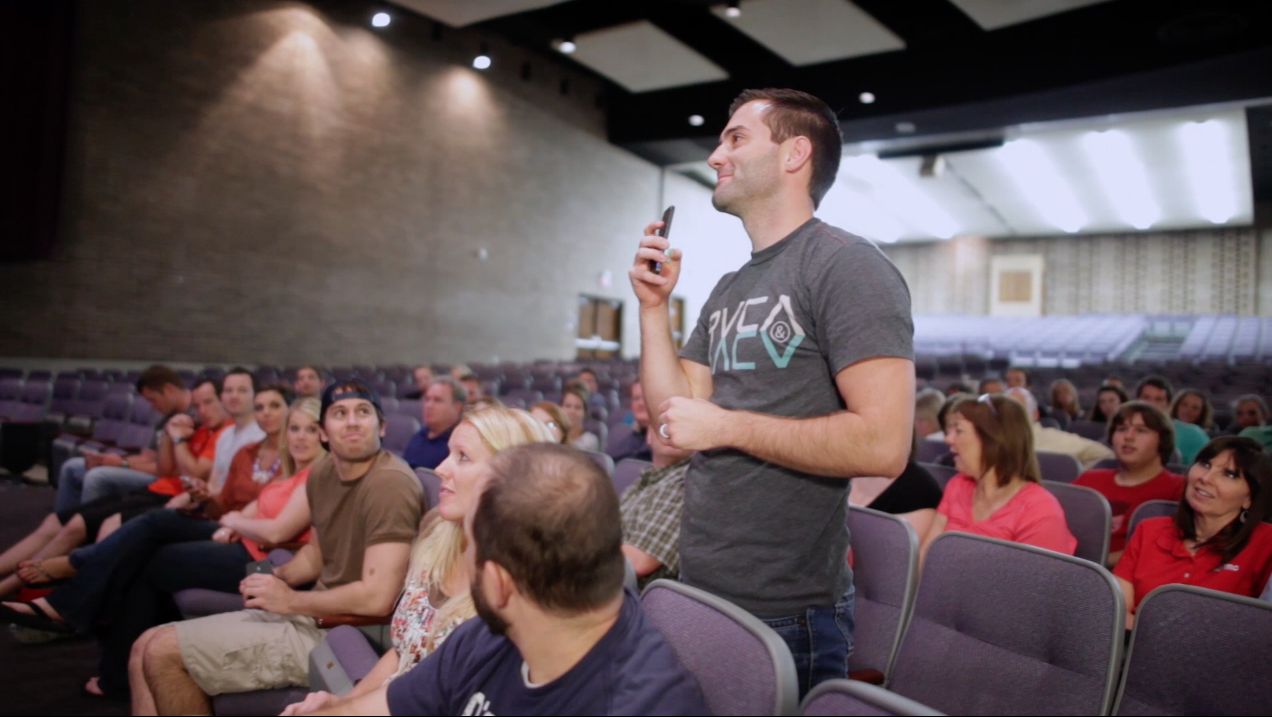 We believe that when the technology gets out of the way, true interaction and participation can occur. Running wireless mics around the room or putting mics on stands distracts from act of hearing the audience. The ultimate distraction is simply not being able to hear the interaction. By giving everyone a microphone, we hope the focus will be less on the mic and more on the discussion.
Crowd Mics is free for audience members. The event organizer, presenter, or venue pays for access to the system based on the size of the crowd. It's free for 20 people or fewer, and then starts at $25 for 50 participants.
Thanks again, Tim, for breaking down Crowd Mics for us today. Check out their press kit for more info. The next step is to come up with the most creative uses for this innovative piece of tech. What can you come up with? Comment or tweet @SquadUP.